Brentwood Shoe & Luggage Repair strives to provide our customers with not only restorative repair services, but also a broad selection of at-home care products for their shoes and other leather goods. We invite you to visit us to find just about anything you need to care for your footwear, luggage and personal accessories. And, if you can't find what you're looking for, we'll order it for you!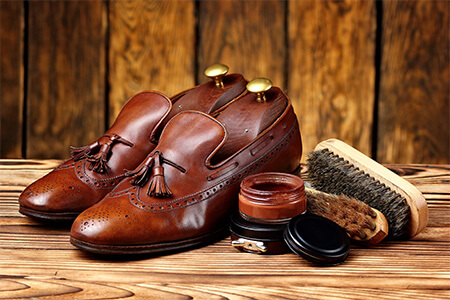 Shoe Shining
Our selection of shoe shining products is extensive and includes only products we can vouch for. The shoe shine accessories we stock include bestsellers from reputable brands like Saphir, Kelly's, Tarrago, Lincoln and Kiwi. We can recommend the right items for your specific type of shoe and will gladly explain products to you, so you're able to get the most out of them.
In addition to individual shoe shining products, we also offer shine boxes. With the purchase of any shine box, we offer 10% off any shoe shining products, so stop in and furnish your shine box today!
Balm
Cream
High gloss wax
Inking brushes
Leather polishing rags
Polish
Shine brushes
Suede brushes
Wax
Waterproofing
For many types of shoe materials, waterproofing is an essential step in protecting your footwear. Depending on the nature of your shoes, we're happy to recommend products in several different varieties. Nano is our preferred brand, however we carry many to cater to the preference of the individual, including Neats Foot Oil and Mink Oil.
Don't be afraid to ask us questions when it comes to waterproofing. We'll make sure you get the answers and the products you need.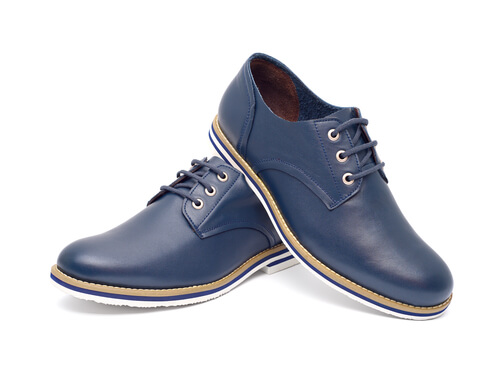 Dyes and Color Changing
When it comes to dyes and other color changing products, we offer an abundance of variety, including leather conditioners. Our color-specific products include:
Fiebing's Leather Dyes, used to paint gourds, squashes and other interior décor.
Angelus Leather Paints, a new and popular item for customizing shoes.
Leather Refinisher, for furniture, purses, shoes, jackets, hats and more.
ColorSpray (similar to a dye), which is a suede refinisher in select colors.
Brillo Leather Coloring, which comes in a variety of colors.
Footwear Accessories
Different types of footwear demand specific products and accessories for upkeep and personalization. Regardless of the type of shoe you have, we've got the accessories to help you get the very best fit and performance from your footwear. Our extensive inventory includes:
Edge dressings for the bottom of a sole.
The largest selection of shoelaces in St. Louis, MO (dress, leather, wax, etc.).
A variety of shoe horns and stretchers.
Shoe trees (cedar and plastic) and cap trees (boot shapers).
Shoe stretch chemicals (liquid and aerosol).
Shoe Goo, a sole-filler for fixing holes.
Barge Cement, a glue to help reattach soles to leather.
Cork Seal for Birkenstock-style shoes.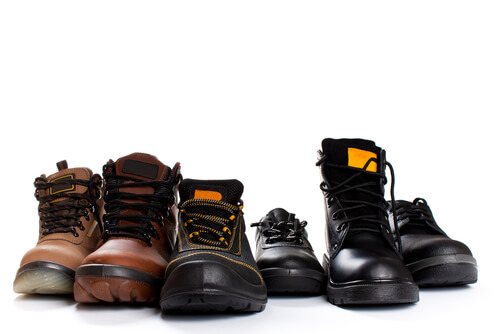 Modification Materials and Comfort Enhancers
You should always be comfortable while wearing your shoes! To that end, our inventory of products contains a robust range of solutions dedicated to improving form and fit. We'll assess your footwear and address problems of fit and feel by recommending various modification materials.
Super mole skin, a soft fabric adhering to the inside of shoes, reducing rubbing.
Halter pads, placed under the ball of the foot to prevent sliding within the shoe.
Tongue pads, which take up room by the tongue of the shoe to create a better fit.
Sure sole, which increases sole gripping and traction.
Heel grippers create a better fit around the heel to prevent blisters.
Sole inserts, including orthotics made of foam, leather and anything in between.
Shoe Cleaners
Keeping your shoes clean will extend their life, not to mention preserve their appeal and integrity! Regardless of the material of your footwear, we carry shoe cleaners specifically formulated to protect them. Stop in and browse our selection of cleaning products for proven brands and effective products, including:
Suede cleaner
Salt remover
Leather cleaner
Saddle soap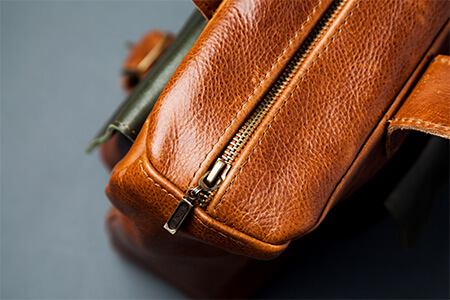 Luggage Accessories
Before you pack a bag and begin your travels, make sure your luggage is getting the 5-star treatment it deserves. Stop into our store to pick up luggage tags, TSA-approved locks, zipper kits and much more. We'll help you restore your luggage to a like-new condition, so you can travel with confidence.
A huge range of luggage tags in St. Louis, MO.
TSA-approved luggage locks (with combination).
Zipper repair kits for jackets, jeans, purses and almost anything else.
Shoe shine traveling kits.
Visit Our Retail Location
Brentwood Shoe & Luggage Repair offers a complete line of leather products. Stop in today to check out our large selection of leather and leather care products, or to speak to one of our friendly staff, give us a call at 314-968-9282.
We look forward to meeting all your suitcase, golf bag, purse, and boot repair needs in St. Louis, Brentwood, Richmond Heights, Maplewood, and Clayton, MO.